When my human puts together my calendar, she pours through the photos over the past year to see what we have. Sometimes she finds surprises. So you might call these bonus photos.
I don't remember why, but in April my human took some photos of me on the counter of the master bathroom. Only she did them as mirror shots. Can you see her camera lens in the upper left hand corner? That's what I'm looking at.
She meant to use them, but never did. The focus wasn't the best on them, but they are still fun!
There could be a whole series of photos of me checking out my stand-ins. The routine is always the same: my human sets up the lights, and then sets out my stand-in so she can adjust the camera settings. Usually, I check out the stand-in at some point to make sure it's doing a good job. I have three stand-ins: this monkey, Grumpy Cat and a lamb stuffie.
As you can see, I didn't think Grumpy Cat was doing a very good job here.
Here's another type of photo my human gets of me all the time — me flopped on the floor of the hotel room. It's another routine of mine. This is from my most recent trip to Tucson, and you may have seen it on Instagram yesterday, if you follow me there.
My human caught me off guard here! I don't remember what was going on.
I hope you liked my bonus photos!
* * *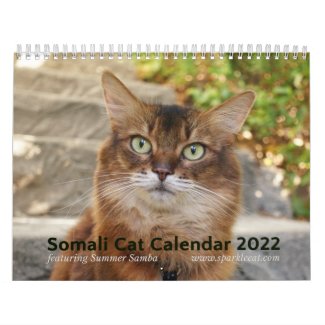 2022 Somali Cat Calendar Starring Summer Samba
See all of Summer's merch at her
her Zazzle Designercat Shop