I go to a lot of TICA cat shows in Arcadia because they are very near where we live, and the one in December is a Christmas show! All the kitties who entered and their humans got a cellophane bag of little gifts, and my breeder also gave my human several gifts too. I always give her a calendar of me, and my human just ordered this year's for her. She is sending her the Lulu.com version because it has my birthday marked… as if she would forget!
In addition to our receiving gifts, the cat show also had a cookie exchange and lots of people brought treats! My human asked her boyfriend to make cookies, since he makes the best cookies ever (if you are a human)! These are his oatmeal-raisin-craisin-coconut cookies. He also made some five-ingredient Nutella cookies. No catnip cookies for the cats, though. That was kind of cheap.
Competing alongside me in the Altered cats was a cool blue Somali named BJ. You may have heard me mention him before — a couple of years ago, when he was an intact cat, he was the Best Somali in CFA, along with being a Regional Winner and Grand Champion. He retired from showing to father kittens, but now he is back as an Alter. It took him several months to get back into the show routine, but now he is doing well! So he was very tough to compete against. He did not win over me every time, though! In some rings I got the Best Somali ribbon. I like to think I kept him on his toes… although I get the feeling he barely acknowledged my existence.
But BJ wasn't the only blue Somali there — so was my half brother, Tajhara Chill Factor. This was his first TICA show as an Adult cat, and he competed against the other intact cats… and did really, really well! One show, and he is already a Double Grand Champion! He is stunning and has a very affectionate temperament.
He is also kind of a goofball. I will confess, he probably inherited that from our mother, because that is one of several personality quirks we have in common — but they are quirks that just make us all that more endearing!
In between rings, I spent time working on my charm. Next year, when I will be at some shows as a "Pet Me" cat, I will be visiting with the public, and that is different from interacting with judges. Even when you are sleeping, you need to present yourself at your best. How do you like my toe curl? That gives people something to admire when I am recharging.
In the end, it was a pretty mediocre show for me — I only wound up with two finals. BJ got three, but he deserved them — he is an excellent cat. And I was also happy because a Turkish Van my human and I are friends with got three finals too! It has been hard for this kitty, since his breed develops slowly and they aren't seen a lot by the judges. Sometimes they get overlooked, but not this time! So in the long run, I didn't really care about the finals — I had a fun time and so did my human!
* * *
---
---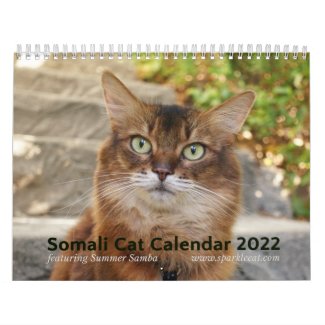 2022 Somali Cat Calendar Starring Summer Samba
See all of Summer's merch at her
her Zazzle Designercat Shop