Now that we're back home, my human and I have to face one of the most difficult post-BlogPaws dilemmas: what swag to keep, and what to give away.
The biggest problem is trying to convince Binga that we are not keeping it all!
(By the way, I see some cat bloggers are able to arrange their BlogPaws swag in a neat and attractive display. That will never happen here! The moment the swag comes out, Binga and I — and sometimes Boodie — are all over it. My human doesn't dare try to make it neat because we would get bored and leave and be grouchy when we are forced to come back for the photo shoot.)
Sometimes the decisions are easy. This bag of Only Natural Pet cat treats was already opened at the conference, so we get to keep it. But will we get to keep the unopened bag we also have? It's a different flavor!
As you can see, Binga is trying to stop my human from putting these Halo Liv-A-Littles freeze dried chicken treats in the give away pile. But we have a second container that my human opened for me at the conference. So it only makes sense to let someone else enjoy the unopened one.
My human bought us a package of Meowijuana catnip joints a while back, and we still have some. So it looks like these may wind up in the give away pile.
We have loads of toys already. We don't need most of the ones in the swag bag. Unless Binga starts licking them (like I licked the Yeowww! rainbow catnip toy), these will probably go into the give away pile.
I think giving up so much swag is depressing Binga.
She is hoping this face will make my human keep more of the swag.
* * *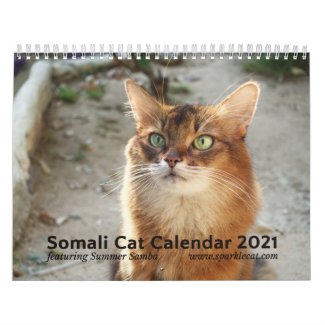 2021 Somali Cat Wall Calendar, Starring Summer
See all of Summer's merch at her
her Zazzle Designercat Shop