The cat blogging community is so awesome! Lots of those who came to BlogPaws brought gifts with them! It's nice to get the swag from the conference sponsors, and I always enjoy giving lots of it away, but it's even better to get these more personal presents.
I wish you could see this card and button from Christy Paws in person! The card has a little colored gem and a real bow on it.
The pen and spring toy are from Truffle and Brulee. I needed a new spring because my human stepped the one we had.
The kitties from A Tonk's Tail made sure their human took good care of us kitties! We got fishy flakes and catnip along with some toys! Oh, and come lip balm for the humans.
I especially love these pipe cleaner rings from The Island Cats! I told my human she could have the candy.
You saw that Orion, Sammy and Emily's human gave me something while I was checking out the Cat Style Lounge — here is what was in the gift bags! Lots of toys.
Lola and Lexy's human had some awesome toys too! I can use their spring as a backup — my human's feet are dangerous! Plus the super pretty tissue paper.
In case you are wondering where Binga is, she slept through the whole photo session! But apparently somebody else didn't. Anyhow, these awesome items, and the Stella and Chewy sample, are from Coco the Couture Cat's human!
This was really special! The human from Dashkitten came all the way from New Zealand and gave my human this really, really lovely necklace. Of course, I had to model it… but I think my human is going to mostly wear it instead of me.
Speaking of wearables… Coco's human also brought me some of her hand-me-downs to try on! Coco is a slightly smaller kitty with that awesome short, wavy Cornish Rex fur, so my human wasn't sure any of these dresses were going to fit, but they did! You saw one of them the night of the Cat Writers awards banquet. This is another one of them.
Here is a fancy green walking vest!
My human really liked the fabric on this dress/ walking vest, plus the pretty jewels around the neckline. Thank you, Coco! These are amazing for hand-me-downs!
And thanks everyone for all the cool gifts!
* * *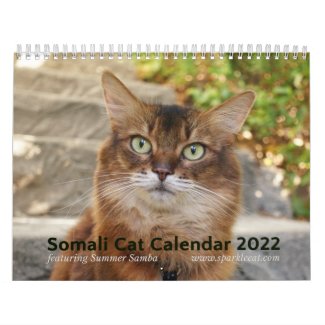 2022 Somali Cat Calendar Starring Summer Samba
See all of Summer's merch at her
her Zazzle Designercat Shop