Lots of cat bloggers who came to BlogPaws brought gift packages with them for their friends! Sophie from Kitty Cat Chronicles and her human gave me this little bag that had one of their pretty crocheted flower ornaments and lots of fuzzy toy balls covered in catnip! I got to play with some of them before we left for home.
I didn't get to see the gift bag from the Random Felines human until I got home. It was filled with cool kitty toys and a kitty ducky keychain for my human. But for some reason my human insists the little stripey balls are not cat toys! Maybe that's why I look confused.
Marci, the president of the Cat Writers Association, gave us a bag of fresh catnip! That sure was appreciated! My human also got some nice things, including an I Love NY mirror from Lola the Rescued Cat's human — and she didn't even realize that my human's favorite city ever is New York!
But my favorite gift of all was the peacock feather that Cathy Keisha's human gave me! It just barely made it home in the suitcase and was a little worse for wear, but still lots of fun to play with.
Confession: it may be even worser for wear now!
Don't worry — I'll let Binga play with it eventually.
* * *
---
---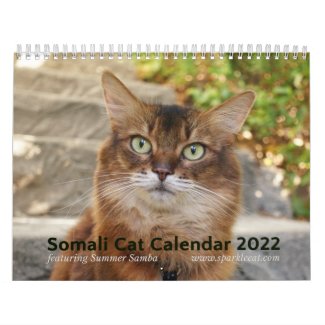 2022 Somali Cat Calendar Starring Summer Samba
See all of Summer's merch at her
her Zazzle Designercat Shop