BlogPaws officially began today! There were lots of workshops and seminars, but my human didn't go to any of them. She was scheduled to work at the Cat Writers Association booth most of the day, and to sell copies of the books Rescued and Dear Sparkle. After doing it for a couple of hours, she realized she badly needed help and came and fetched me! I did another live video from the CWA booth for Facebook.
She brought me down to the exhibition hall in my sling so we could check out some of the other booths before getting to work. I saw so much cool stuff!
The Weruva booth was full of yummy stuff! At least the cat food was awesome. I'm not a dog, so I wasn't much interested in the dog food.
My human picked up some samples from the Stella and Chewy's booth. They are some of my favorites!
We also stopped by the AAFP (American Association of Feline Practitioners) booth — these humans are working hard to improve feline health care, and I think that is a very awesome cause!
Then it was time for me to get to work and promote CWA and my human's books! It was a lot of work sitting on the table and letting lots of humans pet me and ask my human questions about me. But it was also fun. The human of my pal Lola was there selling her book, and she had gifts she was handing out.
Several other bloggers came bearing gifts. Here is a little bag from Christy Paws.
In fact, here is Christy Paws herself! Her human drove her all the way from northern California! They stopped for a visit with a friend in Orange County before heading east to BlogPaws.
My human brought me back to the hotel room when they broke for the reception. When the exhibition hall reopened, she thought I might be too tired to help her. She wasn't sure, so she put a dress on me — she figured if I went and hid, that meant I was done for the night. But no way was I hiding! I didn't just want to go out again — I expected it!
And it was a good thing I returned — I discovered that BlogPaws had set out treats for dogs and kitties!
I really enjoyed visiting with more people! I sat on the table and soaked up all the attention. It was fun!
So you are probably wondering about the Cat World Domination Day celebration and giveaway this year! If you are on Facebook, I will be reporting live from the Cat Style Lounge! But whether or not you are on Facebook, you can participate in the giveaway! In fact, I have two bags of goodies to give away! First is the Cat Writers Association bag that I helped to put together.
Look at all the awesome stuff in this bag! I paw picked the items for the giveaway myself!
Here is everything I chose — cat toys, cat food samples from Muse and Delectables, coupons and more! I even included one of those Drinkwell Hydrate Pumps you saw in yesterday's blog post.
But that's not all — BlogPaws had a cat goodie bag too! So I paw-picked items from their bag and I have two giveaways!
Here's what I picked from the BlogPaws bag — toys, treats, food and some awesome catnip! I even have a t-shirt for your human!
So yes, I have two bags to give away, one each for two lucky readers! All you need to do is comment on my blog post and say you did on the Rafflecopter widget — once you do that, you have more ways to earn entries. Your one entry is good for both giveaways. Since there are food and catnip items, and my human is paying for the shipping herself, we have to limit the winners to US residents only. If you are an international blogger, you can name a US resident to receive the prizes.
Good luck! I can't wait to check out the Cat Style Lounge!
* * *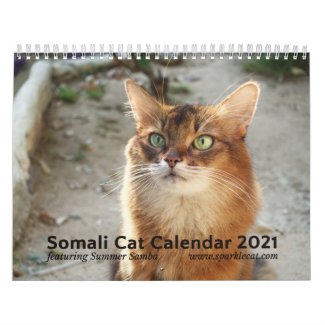 2021 Somali Cat Wall Calendar, Starring Summer
See all of Summer's merch at her
her Zazzle Designercat Shop