The BlogPaws exhibition hall opened on Wednesday, and the first thing I did was visit the Cat Lounge of course!
It was fun to try out the merchandise without my human worrying that I would damage it, and she would have to pay for it!
I got to wander around and see everything! I also got to have a conversation with Coryelle Kramer, an animal communicator! That was fun, and I had lots to say!
There were several fountains there.
Trying out the cat beds was really fun!
I liked this one a lot! Maybe I will win it when they give away all the Cat Lounge items on Friday.
I loved this combination cat bed and play station, but my human said it wouldn't fit in our suitcase.
A lot of pet bloggers are also authors, and this book stand was part of an area for people to relax and read. Many bloggers placed copies of their books there, and they will be given away at the end of the conference.
My human brought the two Rescued books. Well, of course, you knew she would!
Now here comes the really fun part of the first day of BlogPaws: the swag bag! The bags are pet specific, so we got a cat bag.
Isn't this amazing? This is the tenth BlogPaws, and this bag is far different than the swag bag Sparkle got from the first BlogPaws conference (which my human actually spoke at!).
As always, much of this will go into a giveaway for my readers. But some of it I get to keep. I immediately took possession of this Yeowww! rainbow catnip toy.
My human, meanwhile, took possession of this SmartCat Ultimate Litter Mat.
For some reason, she thinks I'm a little untidy when it comes to using the litter box. Even the puppy pads we pack don't capture all the litter crumbs.
Will this mat do a better job of keeping litter from going all over the bathroom floor? I'll let you know!
* * *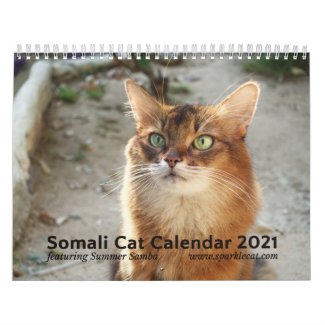 2021 Somali Cat Wall Calendar, Starring Summer
See all of Summer's merch at her
her Zazzle Designercat Shop