I saw so much at the Blessing of the Animals on Satuday that I couldn't tell you about it all yesterday. So I have the highlights for you today.
Because my human knew what to expect this year — from both me and the event — we were able to move around several times to see different things. When we first got there, we sat on the sidewalk in the shade and animal watched for a while.
There were lots of dogs, of course. Some, like this one, were dressed up.
Some ferrets were there, which was kind of weird because I think they're still illegal in California. Nobody seemed to care, though!
There were snakes, but my human missed them. We did see this guy, though! It is an Argentine black and white tegu. She looked it up on Google, and apparently they are affectionate and can be housebroken! Now she wants one.
When it got close to the start of the Blessing, my human moved us over to Main Street, where it was going to start.
We were right across the street from this church. It's Our Lady Queen Of Angels Catholic Church.
Some of the animals, like these two dachshunds, were in wagons. I was perfectly happy to be in my carrier.
When the cow comes out, you know the Blessing of the Animals has begun. This tradition has been going on since Olvera Street's beginnings in 1930. I think they have it around Easter because in October, the date of the Feast of St. Francis, they are busy with their Dia de los Muertes activities. Those go on for a month!
After the cow, Archbishop Jose Gomez arrived with a big entourage of priests and musicians.
Next up were the farm animals, including these goats and sheep. They were brought down by a family who has been attending the Blessing of the Animal ceremonies for 70 years.
After the farm animals, my human and I got in line so we could be blessed. What my human didn't tell me (and I didn't remember from last time because I was mostly in my carrier) was that involved getting sprinkled with holy water. This time, she took me out of the carrier and held me as we walked past. I got drenched! And I assume she did too.
I wasn't kidding! My human is not religious, and she mostly loves the Olvera Street Blessing because of the culture (she is half Latin), but she also likes the ceremony. Plus, her dad was Catholic.
There really is something special about the Blessing. We hung out for a while afterwards, and a young man came up and petted me and made a big deal out of me. And then a lady came by who recognized me from one of the cat shows I was at! She had the person she was with take a photo of her with me.
That wasn't the end of seeing animals. When my human and I went back to Union Station to take the Gold Line back to the car, I got to see this tasty pigeon.
And look at what we saw, right in front of us on the way home! Yes, the very same lucky cat tree truck that was in front of us a few weeks ago. I think it was a sign from the Blessing.
* * *
---
---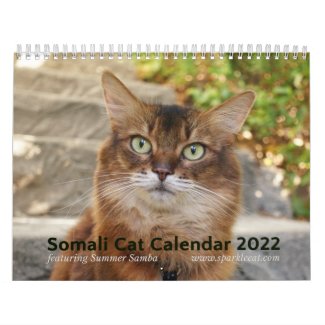 2022 Somali Cat Calendar Starring Summer Samba
See all of Summer's merch at her
her Zazzle Designercat Shop