You are probably wondering if I got any gifts for my birthday, along with my awesome cake. I did — I got clothes! These are my birthday dresses. They are light, casual wear for spring. I may wear them at the cat show I'll be at in Palm Springs this weekend.
This pink t-shirt dress is cute… but the cutest part is the bunny on the back!
The little bow and the eyelet bottom trim are really cute too.
I am usually not impressed by outfits from celebrity companies, but this hoodie is sweet! It is from ED by Ellen DeGeneres. It said it was dog apparel, but I think it looks awesome on me!
I like all the positive words on it. And the flouncy trim. I'm sure people will feel good seeing me in it. I bet you want to see me wearing the hood part of the hoodie.
So here you go! I think Ellen should hire me as a model for her pet clothing line, don't you?
* * *
---
---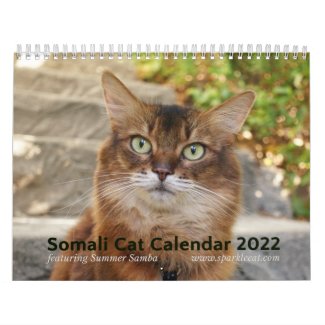 2022 Somali Cat Calendar Starring Summer Samba
See all of Summer's merch at her
her Zazzle Designercat Shop