Everybody knows that Binga is not a perfect little angel (that would be me!). She is not even an imperfect angel. Or little, for that matter. But she really outdid herself with her misbehavior last weekend!
The dog that lives here is very old, so she needs a lot of meds. For example, she needs a half tab of these. They are flavored and chewable so she will eat them. Well, guess who thought they were treats?
Yep, you guessed it! What happened was, my human's boyfriend left a half tab of one of those, plus an opiate in a pill pocket on top of some drawers in his office, then went upstairs to deal with with dog and her dinner. My human didn't know he had left the pills there, and locked up Binga in the office with her dinner so me and Boodie wouldn't steal any of it. Well, Binga decided she'd rather have treats than dinner so she ate the chewable pill. She only ate the pill pocket around the opiate pill inside and not that pill, though — she has had a lot of practice doing that, which is why she gets her Pepcid crushed into her dinner now (don't tell her it's there!).
It even says on the label these meds are for dogs! Sheesh. Anyhow, my human's boyfriend came back downstairs and discovered right away what she had done, so my human called the emergency vet clinic (there is one just minutes from our house), told them what Binga had eaten and they said to bring her on down! My human tossed her in the carrier and took off so quickly that she didn't even have time to bring me along! The clinic humans made her (Binga, not my human) throw up her dinner, and hopefully the pill, then gave her fluids and a dose of charcoal… then charged my human $225. Apparently what Binga ate wasn't super dangerous, but it could have hurt her kidneys — and you don't want to compromise the kidneys of a 14-1/2 year old cat, even if she is relatively healthy.
Being a treat thief does not pay! Unless you are an emergency vet clinic.
* * *
---
---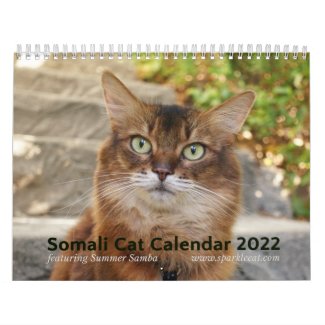 2022 Somali Cat Calendar Starring Summer Samba
See all of Summer's merch at her
her Zazzle Designercat Shop