May has been uncommonly cool here in southern California, so the opportunities for us kitties to get outside have been few. Not because it's all that cold for us. It's my human who's been whining about the weather. Usually she doesn't take us out until late in the day because "the lighting is better." And that's when things get too cool for her. I wonder what she has against putting on a sweater in May? Anyhow, this week we are finally having more typical temperatures here, and my human took Binga out for an after dinner walk.
Binga hasn't had many chances to get outside so far this year, and she is going to be 19 in August. So my human wants to give her as much leash time as possible this summer.
When cats get comfortable on leashes, they generally fall into two categories. One (by far the smaller group) will actually walk along with their human, and only stray a little bit. That's the category I fall into. The other category, and the vast majority, just do whatever they want and expect their human to just follow. Guess which category Binga falls into?
I'm sure most of you guessed correctly! Binga wanted to explore some dark areas, but she was not allowed.
Eventually she decided she was done wandering.
She let my human know she wanted to go back inside.
In case you were wondering, I was waiting for them, just behind the front door.
* * *
---
---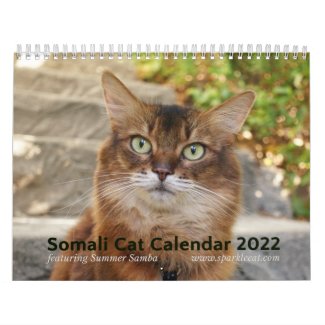 2022 Somali Cat Calendar Starring Summer Samba
See all of Summer's merch at her
her Zazzle Designercat Shop