I know you haven't seen much of Binga this month… but don't worry, she has been around! Even when she is not wanted. Or should I say, especially when she is not wanted! Like this photo session from last week, with the presents our Swedish pals sent us. I did say I would share them with Binga and Boodie. Binga wanted to make sure that was sooner than later.
Did you really think she would be absent if there were treats to be had?
Sadly, attempting to placate her with treats only made her more annoying!
I never thought she would go away! Eventually, my human had to make her leave so we could finish the photo session.
* * *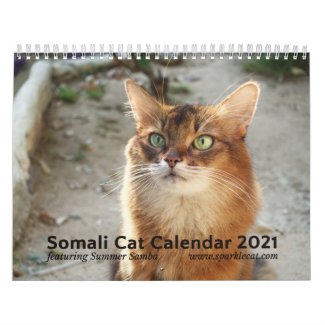 2021 Somali Cat Wall Calendar, Starring Summer
See all of Summer's merch at her
her Zazzle Designercat Shop