Since you were all concerned about Binga, I decided to let her do this week's Sunday Selfie and let you know what her bloodwork said… which was nothing! Her values are all really good, especially for a cat her age, and her thyroid was well within the normal range — pretty much the same as last year's bloodwork. So nobody can figure out what is going on with her. My human is going to send her back to the vet for an ultrasound this week, but she's not really convinced it will show anything. While she was getting checked out, Binga got a couple of shots, including Cerenia, and the veterinarian prescribed some more in pill form. So far, she hasn't thrown up again, and she is acting normal and not sick. So unless she ate something that did not agree with her (always a possibility), it's a mystery.
So on to the selfies! Binga doesn't have any better luck getting the iPhone set up than I do.
And she is way worse at doing selfies.
I tried to give her some helpful tips.
I don't think she appreciated them! And this one is as good as you are going to get, since the photo session went way downhill after this photo.
I thought I'd show her how it's really done, and I had taken a few already when I realized I was being photo bombed. So never mind.
* * *
---
---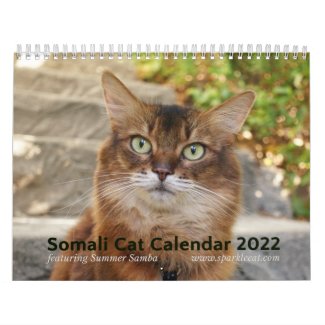 2022 Somali Cat Calendar Starring Summer Samba
See all of Summer's merch at her
her Zazzle Designercat Shop