It's been a while since Binga got to hang out on the patio, so my human snapped the harness and leash on her and they went outside.
She didn't miss a beat. It was like she had just been out there yesterday.
She checked everything out. I could have told her nothing has changed since the last time she was out here.
She was surprised to see the jacuzzi think out back running. The humans don't really use it, but it turns itself on every day for a while.
She was having so much fun out there that my human took a rather shaky, meandering Facebook Live video. If you want to see it, you can click here. Just a warning, though — it's over 7 minutes long! If you fast forward to the last 45 seconds, though, you can see her rolling in the dirt… plus a special surprise!
* * *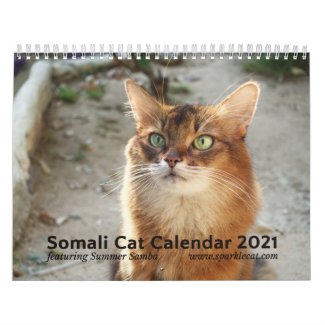 2021 Somali Cat Wall Calendar, Starring Summer
See all of Summer's merch at her
her Zazzle Designercat Shop