Remember Binga's Sunday Selfies a few days ago? My human took a few more shots with Binga outside, and some of them came out pretty nice. So I thought I would share them with you today.
Out of the three of us cats, Binga actually has the best profile.
I don't know how she managed this over the shoulder shot… my human claims she is losing her hearing. Maybe not as much as we all thought, because my human was able to get her attention.
Yes, she looks cute here… but I would not pet her if I were you.
When she gets bored of being photographed, she starts cleaning her back toenails. Seriously, that is her signal!
And here she is, making fun of me because she's outside and I'm not!
* * *
---
---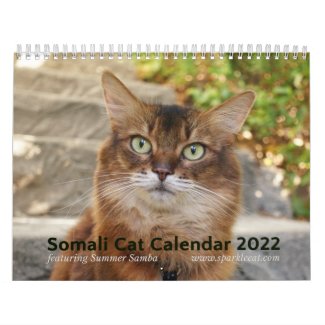 2022 Somali Cat Calendar Starring Summer Samba
See all of Summer's merch at her
her Zazzle Designercat Shop