Remember the other day, when Binga was wondering where Tortie Appreciation Day was? Well, there happened to be a bunch of outtakes. Maybe you're not surprised. I wasn't!
Here she is, whapping paw at the ready, demanding treats for her hard work.
This one isn't an actual outtake — it's the photo my human should have used in the post the other day, but somehow missed.
On the other paw, this photo should have been left missed. It kind of scares me.
Binga's head shake on this one created kind of an interesting, if weird, effect.
I hope you enjoyed a second Binga post in a week! She turns 18 sometime this month, so this is my birthday gift to her. Sort of.
* * *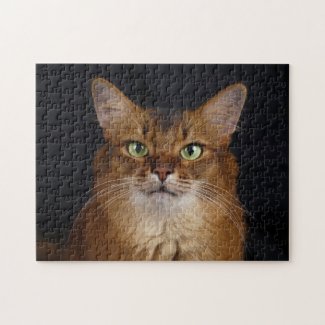 Somali Cat Photo Portrait Jigsaw Puzzle
See all of Summer's merch at her
her Zazzle Designercat Shop