Even though I'm the one known for wearing just about anything, Binga was also pretty agreeable when it came to outfits. She almost always wore them without complaint. Well, sometimes she'd bite. The only difference between her and me was that she lacked modeling finesse. Even so, she had been wearing costumes long before I came to live here. In fact, the photo above of her wearing I'm-not-sure-what was taken the year before I was born.
Remember the second devil costume from the other day, when I said there were two? Well, guess who wore the larger one!
This punk rock outfit was too big for me too, but it fit Binga, and suited her perfectly.
And I'm not the only one who had to wear that donkey piñata thing! That is really a difficult one to wear too.
She also wore this Harley Quinn costume, but I don't think it stayed on her for very long.
And who could forget the butterfly wings? Binga wore them for a whole photo session outside in 2017.
This bow tie isn't really a costume, but my human thought it was a cute photo, so here it is anyway.
I hope you enjoyed these photos of Binga in costume!
* * *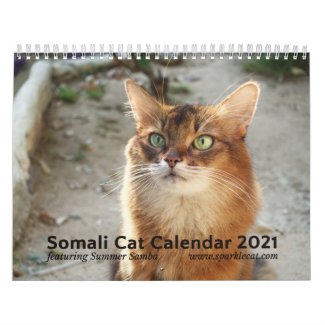 2021 Somali Cat Wall Calendar, Starring Summer
See all of Summer's merch at her
her Zazzle Designercat Shop