Meet Billie! She is the daughter of my half-brother Chilly. That makes her my, what, quarter niece? Anyhow, she's just four months old and she competed in her first cat show this weekend, along with her brother! Isn't she beautiful? But she is also a little bit shy, so my breeder asked my human to come down to the show and handle her. That way, she could get used to new people. You will find out more about how that went in a couple of days. But for now, I will tell you that she warmed up enough to try a Sunday Selfie!
The iPhone was a little strange to her at first!
She wasn't too sure about where to look either.
Once she realized what she was supposed to do, she got too close to the camera!
This is still a little too close, and the focus isn't the best, but doesn't she look amazing? My human says Billie is actually one of the most photogenic kittens she has ever met. If she continues to get over her shyness, you may see her at lots more shows in the future!
* * *
---
---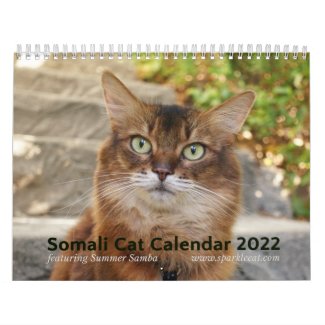 2022 Somali Cat Calendar Starring Summer Samba
See all of Summer's merch at her
her Zazzle Designercat Shop