This was quite a weekend for me at the cat show in Pomona! I saw so many people, I lost count. (Honestly, I didn't really count them. In fact, I don't count very well.) It was lots of fun, but exhausting too.
I was set up pretty close to the entrance so the maximum amount of attendees could see me. And I had a great view of a big vending set up. I have to show you one of the displays!
Isn't this the most amazing thing you've ever seen? A catnip banana tree! So now you know where they come from.
My human did some shopping when I needed a break. (That's the only way I could take a real break — my human had to zip me up in the enclosure and leave because people would come up and ask to see me.) Look what she found — a replacement for the candy striper bow tie that fell apart a few weeks ago! So now, thanks to this and the 15 and Meowing human's presents, I have lots of bow ties to wear.
She also stopped by the S.C.A.R table, and they were selling these handmade knitted kitty caps, so she bought one. Isn't it cute? They still have Miss Kitty, and they are going to bring her to the Glendale cat show at the end of the month, in hopes of finding her a home.
I had a bunch of different outfits, but I only wore them briefly. Everyone who petted me said I had really soft fur, so my human hated to cover me up with dresses. But I did wear my favorite necklace a lot. I always feel so pretty in it.
By the end of the two days, both my human and I were beat! Imagine having to be on all day for two days straight. It's a lot of work for a little cat. My human was careful to give me lots of breaks, but by Sunday afternoon, I mostly just wanted to nap. I was glad to come home and relax!
My nephew Louie was there too, and I can't wait to tell you all about how he did! That'll be for tomorrow's post… and I have another little bit of news that will make you smile too.
* * *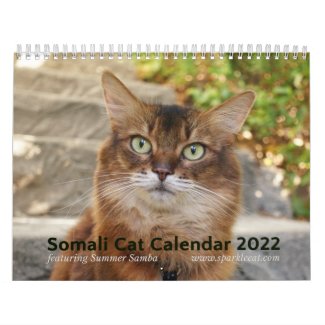 2022 Somali Cat Calendar Starring Summer Samba
See all of Summer's merch at her
her Zazzle Designercat Shop