This was my biggest cat show weekend yet! Well, technically the International show in Portland was a bigger, but I had even more responsibilities here at the San Diego Cat Show in Del Mar.
Here's my space I had at the show. My human tried to make sure I had all the comforts of home, and more! I think I was petted by hundreds of people! Plus my human and I had the presentation about cat training on Saturday. She says I did better than she did because I was nice and stayed in one place the whole time. Plus I did my tricks on cue except for once. Meanwhile, she had some technical issues with the microphone, and it also took her about halfway through the 30-minute talk to hit her stride. Afterwards, people talked with us for another half hour, and I stayed on the table and was quiet and social. I was very good!
Because the presentation was so much responsibility, my human didn't dress me up at all on Saturday. But on Sunday, I did a few wardrobe changes.
I wore a couple of different dresses, but mostly people wanted to touch my soft fur and watch me do tricks. I was especially good with the kids. One boy held both my front paws and waved them around. My human let him because it was obvious that I didn't mind. The funny thing was, when my human tried doing it to me after he left (which she actually does sometimes at home), I didn't want to do it with her! Well, it wasn't part of the job.
If you are wondering whether I had any relatives competing, I did! You remember my nephew Navy from the last show, right? He was there, and still competing as a kitten. He'll graduate into the adult class at the end of February.
Harry, who competed alongside Navy last time, was there too. I didn't know this before, but even though I am not related to Harry, Navy is! Navy is related to me through his dad, Sizzle, and he is related to Harry through Navy's mother (who, I think, is Harry's grandmother's sister or something like that). So they're cousins, something-removed. I think. The relative thing gets complicated!
One thing Navy inherited from my side of the family is a sense of mischief! During the weekend, he chased his tail, tried to peep over the back part of the judging cages, and messed around with his cage neighbors (which is kind of a naughty thing to do!). Although Harry got most of the Best Somali Kitten titles in the rings, Navy did land one final — and a big show like this is a tough one!
While Navy was competing, my human took me for a walk! She thought I might like a break from being stuck at my benching area all weekend, and she was right.
It was really fun! My human shot six minutes of it as a Facebook Live video. Lots of people took photos of me, and some petted me too.
The best part was, when I went over to one of the cat tree vendors, the seller actually picked me up and put me on the tree and let me try it out! That was a big score! Too bad my human's Mini Cooper was too small to bring home a new cat tree.
If you are wondering if this was an exhausting weekend for me, the answer is yes! But most of the time, I just let people pet me and rub my belly when I was dozing.
When I did want some privacy, I made it clear. But that wasn't very often. I really enjoyed meeting with all the cat show attendees and I had lots of fun.
* * *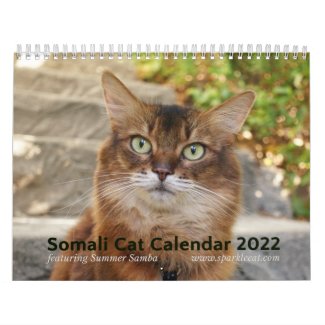 2022 Somali Cat Calendar Starring Summer Samba
See all of Summer's merch at her
her Zazzle Designercat Shop