I have a big calendar announcement today! We are not doing an Outtake Calendar for next year. Instead, my human came up with an idea a few days ago in place of it, but just for 2020.
In lieu of the outtakes, we are doing a Binga Memorial Calendar for 2020! Everyone misses Binga so much that I thought you would like a whole calendar of her. We don't have the time, or sales, to do both an Outtake and a Binga calendar, so we are just doing my regular calendar, and the one with Binga.
Fortunately, we don't have to confine ourselves to just one year to pick out photos, like with the regular calendar. Binga wasn't exactly predictable when it came to posing so there aren't as many good photos of her as there are of me. But there are still lots to choose from!
I bet there will even be photos of her wearing some of my clothes!
It will come out the same time as my 2020 calendar… and while I don't know exactly when that will be yet, it should be in the next few weeks!
* * *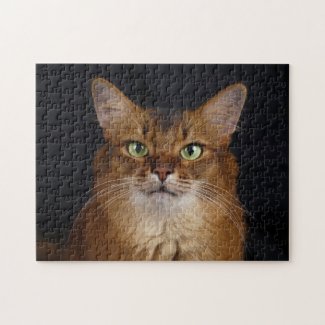 Somali Cat Photo Portrait Jigsaw Puzzle
See all of Summer's merch at her
her Zazzle Designercat Shop