You'll have to excuse me — I was working hard to look my best at the cat show this past weekend! The competition was especially tough: both the handsome ruddy boy Somali and the stunning blue Somali boy were competing against me… and there were two other Somali alters too! It was very hard to stand out. My human almost didn't bother entering me, except that the show was less than 10 minutes from our house, plus this show has the famous "Cats in Hats" competition! And my breeder came up with a really awesome hat for me.
I was also there for the publicity! This show draws a lot of the public, so my human made a big sign for me with all my blog and social media info. She also brought a stack of business cards for me. By the time the show was over, all my business cards were gone!
There were lots of familiar faces there. My breeder brought her blue Somali boy. Since he is going into the breeding program, he is competing against different cats from me. Too bad the artificial lighting of the show hall does not show off all his awesome blue and peach color! But that's not even his best part — he is the most awesome and loving cat, with the nicest temperament. So he's got both looks and personality! He did very well at this show.
My longtime sponsor, Almost Invisible Cat Litter, was also there.
Although my human was holding me and not able to take a photo of me when we were competing in the Cats in Hats competition, she did take photos a couple of days earlier when she was getting me used to the hat. Since my name is Summer Samba, like the song, we went for a Brazilian Carnival theme. At the actual show, I was also wearing a feather boa around my beads. And I won first place!
The first place prize was this amazing, huge ribbon — and fifty bucks!
And that wasn't all! In competition against all those other Somalis, I was Best Somali in two rings! (The ruddy boy, who has been traveling all over the country to shows, got the others.) And in one ring, I got a final, which means I also won over a lot of other altered cats of different breeds. So coming down to this show, even though I knew I wasn't going to get a lot of ribbons, really paid off!
* * *
---
---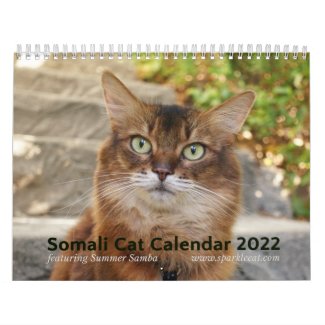 2022 Somali Cat Calendar Starring Summer Samba
See all of Summer's merch at her
her Zazzle Designercat Shop