You are probably wondering why I am sitting here with a bee costume when Halloween isn't for months and months. And no, it has nothing to do with my 2021 calendar.
A few days ago, my human saw a photo on Facebook of a cat in a bee costume with a lyric from Blind Melon's song "No Rain." The thing was, it was a terrible photo with bad lighting, and the cat wasn't wearing the costume very well. So of course my human decided I could do way better. Plus we already had a bee costume handy for me. So I ended up here.
Or, to be more exact, I ended up here. Except there was one thing missing. Can you guess what it is?
That's right — the glasses! But we still weren't done… can you guess what my human wanted out of me next?
She wanted me to tap dance! It did not work very well, even though I am actually a good dancer (you should see me at dinnertime!). My ears kept popping out of the bee costume.
So here is the fruit of all my work.
Now, can I take off this costume?
In case you want to see the original photo that inspired all this, here it is:
* * *
---
---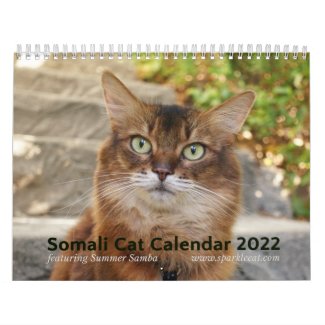 2022 Somali Cat Calendar Starring Summer Samba
See all of Summer's merch at her
her Zazzle Designercat Shop