My attempts to help with the bed sheets the other day produced a bumper crop of outtakes! Not necessarily because of anything I did. Like this pic — there's my human's hand photo bombing, as it so often does. Even the fact that she is holding a treat does not impress me.
If you are wondering, yes, she had to bribe me to stick around while she was putting the sheets on the bed. Unlike many of you kitties, who really enjoy helping.
If you remember the shot where I was looking cute… that did take some practice. There were several misfires, and this was one of them.
This one did not make the "cute keeper" pile either.
And… surprise! My human's blurry hand makes yet another appearance. You can tell by my ears I am very much less than impressed.
This shot just wasn't as good as the ones that actually wound up in the blog post. But you can see in my expression that I thought the whole idea of sticking around for the bed making was pretty boring.
I hope you enjoyed my bed sheet outtakes!
* * *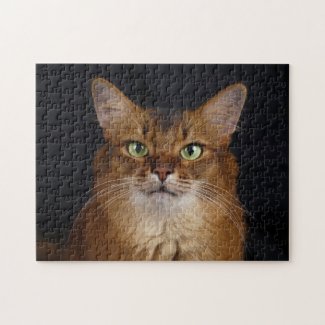 Somali Cat Photo Portrait Jigsaw Puzzle
See all of Summer's merch at her
her Zazzle Designercat Shop