You will have to excuse my bow tie being askew. When my human took this photo, I had already been to a couple of places during this particular hospital visit. Sadly, this tie fell apart shortly after I finished for the day. That's what happens when something gets used often, and well. I hope my human finds me a new one soon. With red stripes!
Anyhow, every therapy cat visit is different, and this one was usual in a few ways. For one thing, I didn't get to do any bed visits. It just worked out like that. I did get to see one man who was in bed, but the child visiting him insisted he was scared of cats. I don't think this was really true — he seemed delighted to see me when I visited him from a chair next to his bed. It was the little girl, actually, who was scared of cats. Isn't that a funny thing about kids? When they feel a certain way, they try to say someone else is actually feeling it. Anyhow, her mother liked me lots, and slowly, the child warmed up to me too. She petted me, and my human explained why I reacted the way I did. Some people don't realize that that when I stand on my tiptoes and raise my rear end, I am enjoying their petting! My human also explained that I don't bite or scratch, and that is one of the reasons I earned my therapy cat certification. So the little girl decided she liked me after all.
We also visited one of our usual waiting rooms full of children. I stood there patiently while four of them petted me and looked at me. They were actually pretty gentle for young kids, so it was nice. And I discovered something funny about my human — she does not speak Kid! When they are that young, my human can't understand what they are saying most of the time. I wonder if that is a skill you learn when you are around children a lot, which my human isn't. Of course, I understood them just fine — they liked me and liked touching me, and that was all that mattered.
Other than the one man, nobody else I visited was laid up. One little girl was sitting on her bed, and I tried to jump up with her, but my human said no. We need a sheet to put on the beds when I visit, and we didn't happen to have one in that room. So I sat on a chair and let her pet me and ask my human questions about me. So this particular hospital visit involved doing more High Fives and less time snuggling. But I had fun!
Oh, and one last thing — I found out where the medical library was! I really, really wanted to go inside, but my human said no. (She says that way too often sometimes.) She said there was no time because we had patients to visit. So I guess I will have to wait for another opportunity to come along if I want to be a library cat.
* * *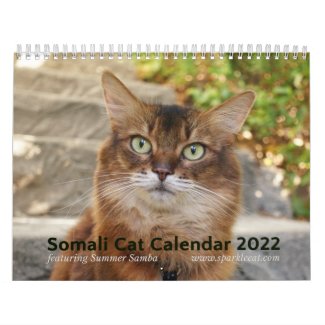 2022 Somali Cat Calendar Starring Summer Samba
See all of Summer's merch at her
her Zazzle Designercat Shop