I thought I would try some selfies in the master bathroom this week. Technically, it's not really the "master" bathroom — it belongs to my human's boyfriend. Hers is the one with the yellow and black tile. Where the litter boxes are. Anyhow, the master bathroom gets some nice natural light in the afternoon, perfect for some selfies.
I just need to get the iPhone from my human and set it up for a good angle.
Wow, this one is not half bad! I think I'm on a roll.
Well, I was on a roll, until she came along….
Okay, so much for my bathroom selfies!
* * *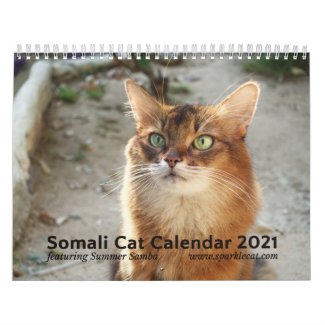 2021 Somali Cat Wall Calendar, Starring Summer
See all of Summer's merch at her
her Zazzle Designercat Shop