I had a bath this weekend! I get a full show bath twice a month, whether I am doing a cat show or not, just to keep both me and my human in practice. Since I have a therapy visit today, my human decided that my first bath of September should be the night before the visit. I am supposed to get bathed every time I do a therapy visit. It does not have to be a show type bath though! This time was sort of an exception.
Although I don't freak out or get stressed like a lot of cats would, I do admit that these baths are not my favorite part of being a public kitty. Except for the end part — I love looking, feeling, and smelling so pretty! Plus I get some awesome treats that I don't get any other time. Anyhow, since I was freshly groomed, I thought this would be the perfect time to do this week's selfie.
I just need to grab the iPhone. Fortunately, damp paw pads are not as slippery as wet human fingers!
I have to say, I am looking good!
* * *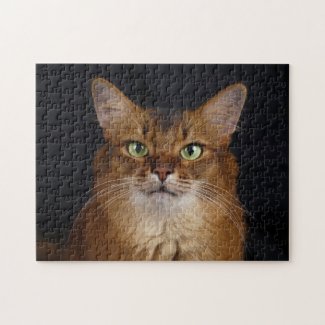 Somali Cat Photo Portrait Jigsaw Puzzle
See all of Summer's merch at her
her Zazzle Designercat Shop