One of the downsides of being a show cat — and a therapy cat too — is I have to get baths regularly! Although it is not my favorite thing in the world, as you can tell by my face, I don't put up a fight or struggle. And that is a good thing, because when I get a show bath, it is a complicated process. My breeder came over to our house to show my human how to do it. She put degreasing goop behind my ears and inside my legs, and then I got two shampoos! One deep cleansing, and another some other type of shampoo my human got at a cat show. Then I got rinsed twice with a part cider vinegar, part water combination. And rinsed and rinsed and rinsed with lots of water. Then I got towel dried, just to mop up the excess water, and a spritz of leave on conditioner. My human says she doesn't go through that much work for her own hair!
Then there's the drying process, using a dryer on a stand. My human got the same kind my breeder uses, one that has a cold shot setting to set my fur when it is almost all dry. My human says she does the same thing with her own hair to tame the frizz.
As my fur started to dry, my breeder pulled out the combs and started grooming my fur so it would dry nice and straight and fluffy! I don't mind having my head lifted like this — judges crank my head up all the time at shows so I'm used to it. Can you see how the comb is just a blur? My human is going to have to practice a lot before she gets this good!
Here I am, almost done being bathed and groomed! I look nice, but even better, I feel really nice to touch too!
This is my favorite part of being groomed — getting treats at the end as a reward for being so good!
Although the grooming job I got was pretty nice, I decided it needed to be fixed just a little. We kitties do know better, right?
See? Now I look perfect!
* * *
---
---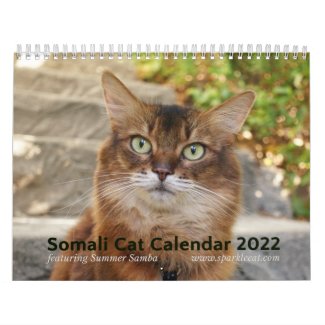 2022 Somali Cat Calendar Starring Summer Samba
See all of Summer's merch at her
her Zazzle Designercat Shop