It's been too hot to go outside at all, but my human decided to take me out onto the hotel room balcony, at least for a few minutes. She felt like I was missing something.
Well, maybe I wasn't missing anything except for a view of the hotel parking lot! The grounds here do have pretty desert scenery, but I don't think there's any way to make a parking lot look good.
I figured that while I was out there, I should take some selfies so it wasn't a total waste.
As always, I had to set up the timer on the iPhone first.
I don't really like this angle. Maybe I should try placing the iPhone somewhere a little different.
That's better! I think I'll stick with this one.
My human and I are exhausted, so I'll wrap up my BlogPaws trip tomorrow!
* * *
Check out my Valentine's Day Collection on Zazzle!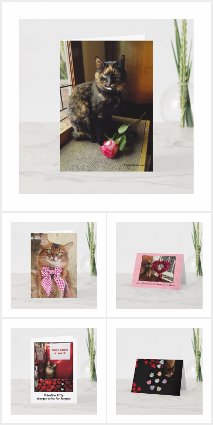 See all of Summer's merch at her
her Zazzle Designercat Shop