Remember when I went out the other day, and spent time in my backyard garden? I also used the opportunity to take some selfies.
For some reason my human was reluctant to give me the iPhone. Maybe she thought I'd lose it in all the greenery.
Finally she relented and let me have it.
I'm totally not happy with the way this one turned out. I cut off one ear tip (I look feral!), and I don't even know what was going through my head when I took the photo. I want a redo.
Much better! I even got my head tilt in this one. I hope you like it!
* * *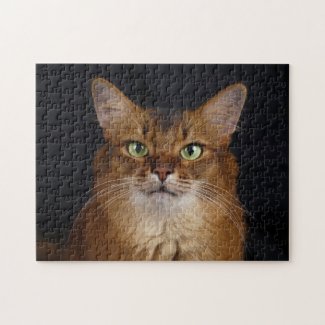 Somali Cat Photo Portrait Jigsaw Puzzle
See all of Summer's merch at her
her Zazzle Designercat Shop