After being away for three weeks because my human was sick, and in between being sick, she took me to Meet the Breeds, I am back to work doing therapy cat visits! And you have no idea how happy that makes me. My human worried that I might be a little "off my game" since it's been so long. She needn't have been concerned — I was on the beds and purring and doing High Fives right away.
The day sure started out weird, though! My human always makes me visit the litter box before we go out, and when we came out of the bathroom, Boodie was in my carrier! It was the one I won, that I thought would be too small for her, too. I'm not sure what she was thinking, but my human had to get her out and me in.
Then when we got to the hospital, nobody was going in or out because there was a Code Pink happening. In case you don't know what that is, it's a possible infant abduction, so it was pretty serious. But all was clear in a few minutes, and we could sign in. A couple of minutes later, the other team showed up. It was my dog friend, Mr. Scruffles. We actually like each other. It was kind of hard to keep us at the required 6 foot distance. We kept wanting to touch noses, even though my human told me it was not allowed.
We saw a lot of children on this visit, which suited me just fine. The first little girl really, really missed her kitty, so she was happy to see me, but she also enjoyed Mr. Scruffles. One boy we saw had just had surgery on his hip. But even though he was pretty knocked out from being sedated, he still smiled and enjoyed our visit and petted me lots. My human took a photo on the Poloroid camera, which is a good thing — he might not remember the visit otherwise! Another boy I visited, an older one, really had a nice time petting me. When the nurse asked if he had any pets at home, he said, "No, but I wish I did." So I was glad to give him a little dose of kitty therapy.
It was a really good visit today. Sometimes the patients are nice, but not really all that excited we are there. But nearly all the patients I saw today really were thrilled to see me, and wanted lots of quality time.
Then, on the way home, I saw a good luck symbol! I bet you can't guess what it was, so my human took a photo. It was the truck in front of us, filled with cat trees. We followed it for maybe a mile or so.
* * *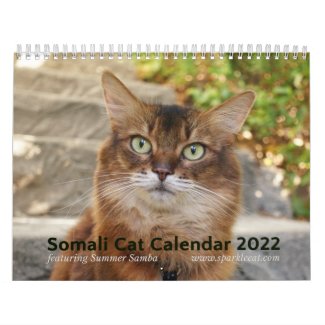 2022 Somali Cat Calendar Starring Summer Samba
See all of Summer's merch at her
her Zazzle Designercat Shop