I had my first day back to my therapy cat duties in a month! And I hadn't been to this particular hospital since November. But can you believe a couple of staff remembered me? Well, I guess I am pretty hard to forget!
After we signed in, the first place I headed to was Pediatrics. A little girl was just returning to her room with her family and she wanted to see me. So my human put a sheet on the bed for me so I could hang out with her. It took me a few minutes — I was a little out of practice! — but I settled in next to her. She was nice but she had lots of questions. Like why was I putting my face on her (because I liked her!), and why I put my tail in the air (it happens when you pet me on the behind). She was worried I was shaking, but I was actually purring. She had a lot to learn about kitties!
There were two more young patients in the playroom, a boy and a girl, so I visited with them there. The little girl learned how to get me to give her High Fives and paw shakes. And she was really young, too! She was almost as bright as me. The boy was sweet. I posed for photos with both of them.
On the way to the Rainbow Room, for young outpatients, my human and I stopped by the Residents' Workroom. They get forgotten about sometimes, but we had a few extra minutes. There were two young women — one was allergic to cats, but she didn't mind the other woman spending time with me. In fact, they both love kitties, the allergic one just couldn't touch me. They were very happy to have me stop by.
The Rainbow Room can be hectic, because sometimes there are developmentally disabled kids there for appointments. But it was pretty calm this time around. One boy was wandering all over the room, looking out the window and playing with toys… everything but looking at me. The funny thing is it was obvious he knew I was there! A parent brought a child over who was scared to touch me. But somehow, she convinced the kid to touch me, and that it was okay — that was a big moment. A family with three kids showed up, and they all wanted photos with me. I sat on the chair next to each one of them and I posed nicely.
My human worried I would be out of practice and would not remember the hospital very well after being gone for so long. She needn't have been concerned. It took me just a few minutes to get my "therapy cat legs" back, and from then on, I was my usual pro self. On our way to sign out, we stopped by a waiting area and one woman visited with me. She said that she was laid up a long time in the hospital last year, and having therapy pets visit really helped a lot. It was so good to hear that.
* * *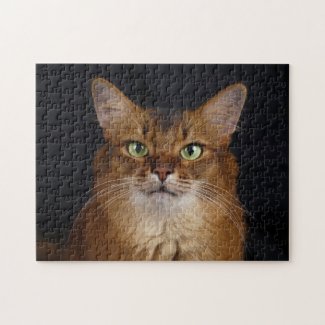 Somali Cat Photo Portrait Jigsaw Puzzle
See all of Summer's merch at her
her Zazzle Designercat Shop