I got to go back to USC for a therapy cat visit! I hadn't been since last year. The USC visits are usually in demand among the therapy pet volunteers — we sign up for our visits online, and those are usually the first to get taken. It's easier at the beginning of the semester, and my human made sure to sign us up well in advance.
On this visit, I started working even before the students came to take me to the "Pause for Paws table." My human was sitting on some steps by the parking lot, with me in my Sleepypod and students started coming over to pet me and visit with me. Eventually we got taken to the table, a few blocks over on the other side of the campus. This was a nice setup because there was a table for me to sit on. The dog, Charlie, hung out on the pad they had set up by the table.
We had a lot of students stopping by! Some of them remembered me — by name! — from my visits last year. One girl said I was a lot more laid back than last time. And I was. I mostly relaxed in my bed on the table. If I'm on the grass, I'm more likely to want to wander and I'm not always as comfortable at ground level outside.
Many of the students told my human that they missed their cats at home. But there was one guy who actually lived with a cat. Even though he had a cat at home, he spent a lot of time petting me. We were near where the school of dentistry was, so several students in scrubs stopped by to pet me too.
I had a nice time! The funny thing about USC — right around the corner from the campus, there's cat who sells cars:
* * *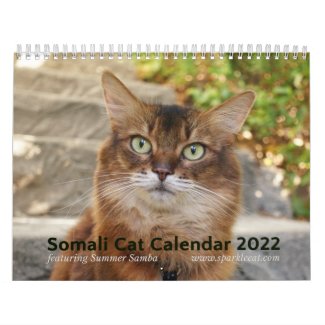 2022 Somali Cat Calendar Starring Summer Samba
See all of Summer's merch at her
her Zazzle Designercat Shop