I hope you don't think I will get an attitude after yesterday's movie role! In fact, as soon as I got home, I went right back to being a regular kitty! I even spent some time playing with my favorite toy! Okay, maybe it is not a regular cat toy, but I did regular kitty things with it, as you can see.
(No secret messages this time — the photos themselves are the story!)
Wait a minute! Where did she come from?
* * *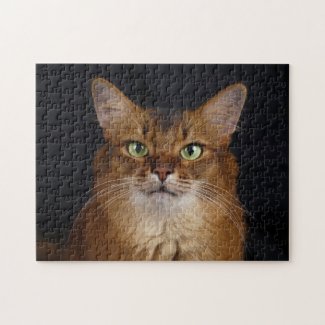 Somali Cat Photo Portrait Jigsaw Puzzle
See all of Summer's merch at her
her Zazzle Designercat Shop