I visited the children's hospital for my first visit of 2022. Even though we were only there for an hour, my human and I fit in a lot of patients!
I saw several kids in wheelchairs during this visit. I'm fortunate in that I have never been bothered by wheelchairs. Some cats are, and that would have made it difficult for me to be a therapy cat. I saw a few cat show attendees in wheelchairs before I started my visits, and I was okay with them right from the start.
One girl in a wheelchair had a young brother who was alternately nervous and fascinated with me. I saw them again in the exam rooms, and my human and I spent time with him so that he could get used to me and learn how to pet me gently. Sometimes the kid that needs me most isn't the hospital's patient.
And sometimes I don't know if I am helping the patient or not. One mother was wheeling in her kid who seemed oblivious to everything. Even though it was a warm day outside, he was bundled in a jacket and mittens. The mother tried to get his attention, and brought his mittened hand up to touch my fur. I think this may have registered with him. I hope so.
Next we went up to the second floor pre and post op and rehab. I visited the one girl in post op before visiting the busy rehab area. I got to go to the outside area for the first time, where a girl was doing leg exercises and sprints. She remembered me from before. I also visited an exam room where a therapist was manipulating a girl's hand.
Back out in the lobby area, I did some tricks for a family, which was fun. The last patient I saw was a happy little girl wearing a princess crown. It was nice to be back.
Other posts you'll enjoy:
* * *
---
---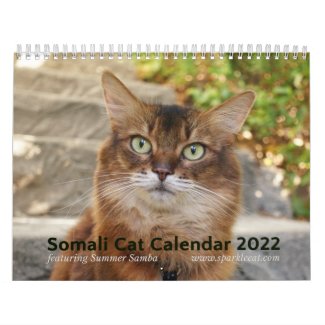 2022 Somali Cat Calendar Starring Summer Samba
See all of Summer's merch at her
her Zazzle Designercat Shop