You'll find me in all sorts of awkward positions and situations in this week's selection of outtakes.
If I looked like I might have wanted to take a bite of one of those tuna chews in the original blog post, you were right!
The photo session for my post about clawing the couch went pretty smoothly. Except for this shot, when I wanted to take a short break. I mean, three and a half minutes of posing was long enough, right?
I think my human just wanted a photo of my tiny tongue… but she couldn't get the rest of me to look cute!
My human took me outside for a few photos. It was that time of day where the light was really nice, and she wanted to take advantage of it. Except… it was one of those rare days where I just wasn't in the mood to pose for photos. She got not one usable shot. Most of them were some variation on this.
Just to show you the lighting she was aiming for, here's this one. With me looking annoyed. Don't worry, we'll try again!
I hope you enjoyed this week's awkward outtakes! If you have a favorite, let me know in the comments.
* * *
---
---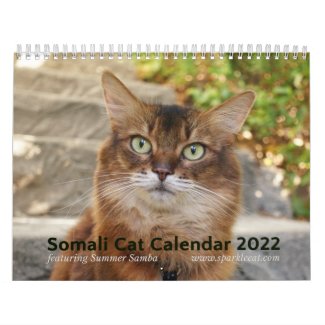 2022 Somali Cat Calendar Starring Summer Samba
See all of Summer's merch at her
her Zazzle Designercat Shop