I have other plans for this weekend's blog posts, so I'm sharing my weekly outtakes with you today instead!
I look like I'm expecting to give a high five to a hand that's coming from a completely different direction!
This facial expression was not becoming for a therapy cat! But we were done for the day, and I didn't want to pause for photos on the way to the car.
My human took a bunch of photos of me with these cat toys in addition to the one you saw in the original post. That's how much I was enjoying them! This outtake, while kind of awkward, is probably not as awkward looking as the one you already saw a couple days ago!
I was really excited about these minnow treats! You can tell I was licking the pet shop owner's hand, I was going so crazy over them. So it was really surprising that I didn't actually eat them til I got home.
I kind of look like I'm banging my head on this table leg, don't you think?
So those are this week's outtakes! I hope you enjoyed them. If you have a favorite, let me know in the comments.
Other posts you'll enjoy:
* * *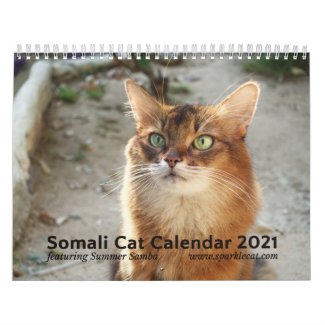 2021 Somali Cat Wall Calendar, Starring Summer
See all of Summer's merch at her
her Zazzle Designercat Shop