Just wait till you see what came in the goodie bag from the Cat Writers conference!
Look at all this awesome swag! And it was really fragrant too. There were lots of catnip filled toys — and I got to check it all out without any interference from Binga or Boodie!
This one is mine.
Meanwhile, my human visited with some other cats, including Chanel from Random Felines and Cats Going Places. As you can tell, she collared Chanel into a modeling session.
We also had the big book signing last night, where I made a featured appearance.
I got lots of attention, and got petted by lots of people.
After a while, though, I got bored and wanted to go for walks! So of course, my human had to go with me. So she wound up not selling any books. Well, she did sell one, to a fellow cat writer who felt bad for her. But at least I had fun!
* * *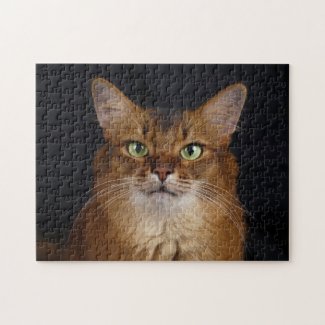 Somali Cat Photo Portrait Jigsaw Puzzle
See all of Summer's merch at her
her Zazzle Designercat Shop