Last week, my pal Pumpkin tagged me for the Awesome Blog Content Award!
This award requires the recipients to go through the alphabet and find words that either describe them or are things they like. Here are mine:
A — Abyssinian, the breed that Somali cats like me came from.
B — Brushing, which I love.
C — Cat treats! Since I am underweight, I get a big bowl of them and I can eat as much as I want.
D — Da Bird, one of my favorite toys.
E — Energetic! I've been having the crazies a lot lately. I think it's the spring weather
F — Fluffy, which my tail is.
G — Gorgeous. Who can deny that?
H — Helpful, or at least my advice column is!
I — Intelligent. Yes, I am the brains in this outfit.
J — June, my birth month.
K — Katydids, which are very tasty!
L — Little, as I am less than 6 lbs.
M — Mad at my human, which I am frequently.
N — Nutty. I do have my moments.
O — Opinionated.
P — Poultry. Bird is my preferred protein.
Q — Quirky, at least a little bit.
R — Ruddy, which is what my ticked fur is called.
S — Salmon, my favorite fish! I love it way more than tuna.
T — Tickle Pickle! I get to play with mine every day.
U — Unforgettable, if I do say so myself.
V — Vivacious.
W — Whiney, whenever my human picks me up and tries to hug me.
X — X-Ray, 'cause I look awesome on the inside.
Y — Youngest cat here, which isn't saying much. I'll be 10 in June!
Z — Zonked, which is what happens to me when I play with my Tickle Pickle.
I'm also supposed to pass it along, but so many of you have already won it, that I'll just say: if you haven't gotten it yet, consider it yours! You are all awesome.
* * *
---
---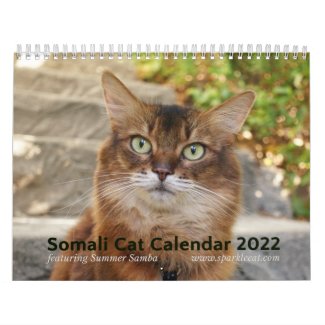 2022 Somali Cat Calendar Starring Summer Samba
See all of Summer's merch at her
her Zazzle Designercat Shop