Open House, Closed Door
I am feeling better now and back to jumping on the bed whenever I want. As you can see, my human didn't make the bed when she took this picture, so she must not have been showing the house that day.
I never did have to deal with those pills because my human stuffed them in my cat food. I could barely taste them.
I'm almost sorry I got over whatever was bothering me — since I hadn't been eating much, my human brought home all sorts of goodies from the pet store. I was quite impressed.
Even so, when I finally did start eating regularly again, the first thing I wanted was the dried up bowl of Nutro wet food from the night before.
We cats have decided that the weird living room furniture is okay after all, even if the humans don't like it. In fact, we like it especially because the human's don't — that means we have it all to ourselves.
Boodie enjoys taking naps on the table and getting her fur all over everything.
Of course, my human finally had to try to get involved. She thought that if we liked the living room so much that maybe we'd want to play with some of the decor. There were these weird feather balls she thought we might like to bat around.
She was wrong. Her ideas are almost always lame.
We like the new bedspread and sheets too. Especially since our cat fur sticks to it so nicely, unlike the old sheets.
So life was pretty much back to normal when disaster struck. Well, we cats thought it was a disaster, although my human didn't seem to consider it a big deal. We probably should have gotten the hint when she got extra lint rollers and started removing the mounds of cat hair from the bed.
Next thing we knew, we were all stuffed in cat carriers and whisked to an undisclosed location. My human said something about having an open house and we had to make ourselves scarce. All I know is calling this ordeal an open house was pretty bogus because all of us wound up stuck in some little room somewhere with the door shut.
Binga and I looked out the windows, but the view was pretty bleak compared to our house. No birds.
Binga was mad.
Boodie knew what that meant, so she didn't even want to leave her carrier, and when she did, she kept a low profile.
I noticed that along with her laptop, my human also brought a disposable litter box. All this indicated we would be there for a while.
After a few hours, my human packed everything back up and took us home again. But then she repeated this whole open house/ closed door process three more times! I started to wonder what was going on while we were gone. Once we came back and there were leftover sandwiches on the table in the breakfast nook.
My human tried giving me some of the meat out of one of the sandwiches. I wasn't sure if it was edible, so I played with it instead.
By the fourth time we did this, it was getting really old.
I do want to say I was the only cat who took advantage of the disposable litter box, which only proves my superiority.
At the end of the month my human's boyfriend packed a bunch of stuff and left on some sort of tour.
My human whined about what she considered rotten timing because it meant she was going to have to do a bunch of moving while he was away. I'm not sure what she was complaining about — judging from how much she jumps around in front of the TV with those exercise DVDs of hers, I rather assumed that she enjoys moving.
* * *
---
---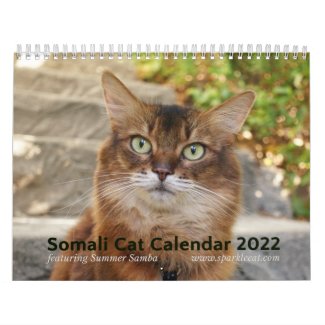 2022 Somali Cat Calendar Starring Summer Samba
See all of Summer's merch at her
her Zazzle Designercat Shop