It has been a couple of weeks since you've seen any outtakes from me, so here you go!
You haven't even seen this photo shoot and it actually went better than this picture might indicate! In spite of my Grumpy Cat imitation, I really do like this dress. And no, my tail was not Photoshopped out — it does look like it, though, doesn't it? I was just hiding it.
Here's an action shot from the same photo session.
You might say this is another action shot… I was trying to remove the reindeer antlers!
I think I may have been looking for a treat here!
Binga definitely was looking for treats here!
As you can see, Binga had her whappin' paw out for this photo session!
This was from the first night my human and I arrived in Tucson for last weekend's cat show. I think I was a little overexcited!
I hope you liked my outtakes today!
* * *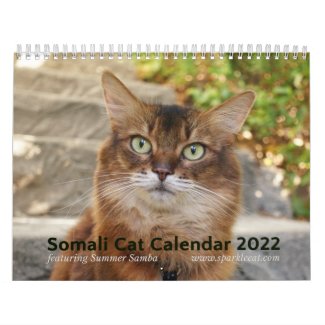 2022 Somali Cat Calendar Starring Summer Samba
See all of Summer's merch at her
her Zazzle Designercat Shop