A lot of people have been sharing a People Magazine story that claims cats reflect their owners' personality traits. In other words, cats that are more anxious and aggressive have owners who are more neurotic, while more conscientious owners have cats that are friendlier and more well-adjusted. The researchers saw similar parallels in people and their dogs, and parents and their children.
I do have a couple of thoughts about that, as you probably figured. For one, how does that explain a kitty family like my own, where all the cats are or were very different from each other, personality-wise? I'm friendly and happy; Boodie is shy and (there is no other way to put it) weird; Binga was friendly, bossy and at times aggressive. But we've all lived with my human, who is not always the most well adjusted human on the planet.
The other thought that occurred to me is… what if the researchers have it all wrong? After all, we're cats, not dogs or children. We have more control over our humans than they would ever care to admit. So — what if it's the other way around, and it's we cats who are driving our humans crazy? Maybe the neurotic humans are that way because their cats are driving them nuts with their aggressive, freaked-out ways? And maybe the humans who aren't so neurotic are like that because their cats are well behaved, so they don't have as much craziness to deal with.
This would also explain my human — she probably gets mental whiplash dealing with so many different personalities. I can only imagine the insanity humans go through when they have more than three cats! It's a wonder they're sane at all.
So what do you think? Are the researchers right, and we cats reflect the personalities of our humans? Or do we cats have a direct affect on our humans' mental condition?
* * *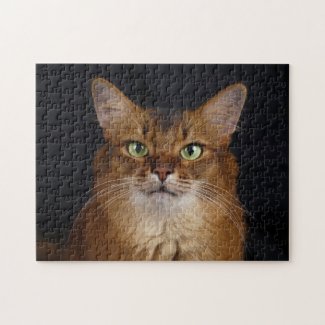 Somali Cat Photo Portrait Jigsaw Puzzle
See all of Summer's merch at her
her Zazzle Designercat Shop