Boxes, and the Things in Them
Remember what I said last month about smaller boxes being good cat beds? I think Binga took that a little too far.
But then, she has some pretty strange ideas about good napping areas. She also decided to hang out on some files my human hasn't put away yet.
In fact, she made herself quite at home.
We've been getting a lot of boxes lately. Boodie is ecstatic.
Most of the things in these boxes turn out to be something for the office I share with my human. Not that she does anything with them. Mostly, they sit in the living room waiting for her to get organized.
Then Easter came, along with its stupid gifts. I don't know why my human wanted a dark chocolate bunny. Rabbit-flavored cat food would be much more appealing.
In an effort to please me, my human came up with some wacky idea. When she presented it to me, I was dubious.
It was a bunny Pez container — only she put cat treats in it.
That idea didn't work very well. None of us cats could figure out how to get to the treats. And trust me, Binga tried.
Finally a box arrived… and it was addressed to me!
It was some special new toy called a Cat Quest. It has wings that flutter!
Binga was dying to get her paws on it.
My human said that since it was my name on the address label, I should get first dibs. I was all excited to give it a try.
But then Boodie jumped in and started hogging it. I was really annoyed.
And when Binga went after it, all bets were off. Nobody else got to play with the Cat Quest.
My human felt really bad about this, so she waited until the other two toy hogs were off napping and let me play with it all I wanted. I killed it good!
* * *
---
---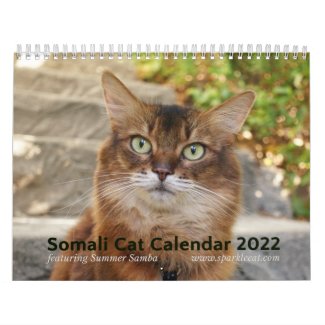 2022 Somali Cat Calendar Starring Summer Samba
See all of Summer's merch at her
her Zazzle Designercat Shop