Some weeks I wind up with more hilarious photos than I can use. Other weeks, like this one, there aren't as many funny outtakes, but the ones I do have are really good! In the pic above, from yesterday's nip harvest, I might not have been as happy about leaving this pile for the outside kitties as I sounded.
Here's a bonus photo for you, from last week's filming. I was doing an ad for some pet stairs, but my human didn't take enough photos to create a blog post. There were a couple of silly pics, though, and this was one of them, taken while we were waiting for them to set up the shot.
After my therapy cat visit the other day, my human took a few photos of me for the blog post. And I got a little bit excited when she pulled out the treats. Okay, maybe a lot excited.
And here I am actually getting the treat.
When I'm not posing nicely with things during a photo session, I am walking right over them. So here I am, pretending I can't hear my human saying, "Stay!"
And that's the end of this week's outtakes! Do you think I did as good a job of picking them as I do? Let me know in the comments!
Other posts you'll enjoy:
* * *
---
---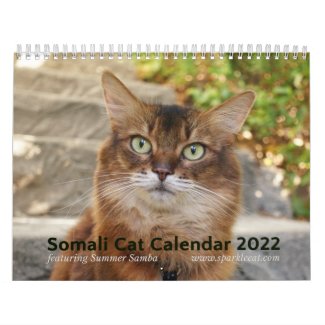 2022 Somali Cat Calendar Starring Summer Samba
See all of Summer's merch at her
her Zazzle Designercat Shop