My human has me jumping through hoops!
Of course, the price is right! Even though I can't see the treat, I know it's there.
And so does Binga! What a cheater! But she said she learned this trick long ago. I didn't believe her at first, but then I saw proof.
If Binga can do it, I know I can too!
Oops, I guess the timer was a little off.
I'm just too fast for the camera!
Of course, Binga had to practice too… otherwise she wasn't getting any more treats.
That was fun! I want to do it again.
* * *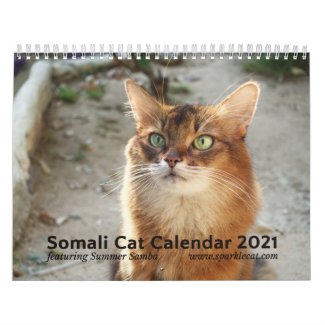 2021 Somali Cat Wall Calendar, Starring Summer
See all of Summer's merch at her
her Zazzle Designercat Shop