A few of you asked where Binga and Boodie were during this awful heat storm we had this past weekend. They were upstairs in the living room too! My human kept trying to make them go downstairs, where there was decent air conditioning. But they kept coming back up. And of course, some kitty couldn't stay away from a photo session. The above photo looks a lot like the one on Sunday… with one exception.
My human thought for sure she was going to just lie around and not bother us. After all, she will be 18 next month. But apparently, she has no idea how 18 year old cats are supposed to act.
Can you tell she is just hanging around to be in the way?
I think it's about time that this unwelcome visitor got ejected from the set!
Ugh! Now she's making The Face You Can't Resist. Even during a heat wave, she can pull out all the tricks.
* * *
---
---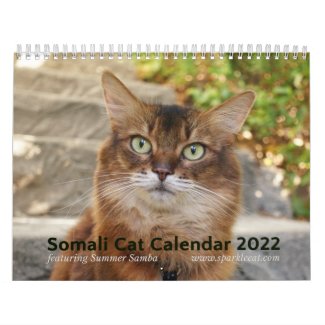 2022 Somali Cat Calendar Starring Summer Samba
See all of Summer's merch at her
her Zazzle Designercat Shop