My human decided it was time to replace the old living room rug! "Why would she do such a thing?" you are probably wondering.
Because this is what it looks like when she does not Photoshop it! She was getting tired of spending so much time fixing the worn spots so they didn't show up in photos. None of this is the fault of us cats, mind you. It's the humans and all their jumping around and exercising that wore it down this badly over the course of 7 or so years.
Well… Boodie was responsible for the corner fringe my human was always having to hide.
The no-stick pad underneath the rug was toast too.
Boodie was sorry to see it go — she kept sitting on it while my human was trying to fold it up.
But not being particular, she also kept sitting on the new pad too. My human said it was worse than trying to make the bed.
When my human and her boyfriend rolled out the new rug, it had a few lumps. They are supposed to settle on their own over the next few weeks, but the instructions she read online said she could help some creases straighten out by putting something heavy on them. Like Boodie.
I wasn't sure about the new rug at first. It felt weird on my sensitive toes.
But in the end, I gave it my paw of approval. Good thing, otherwise my human would have had to send it back.
* * *
---
---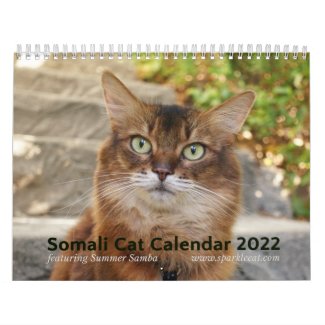 2022 Somali Cat Calendar Starring Summer Samba
See all of Summer's merch at her
her Zazzle Designercat Shop