I don't know if it's me or what, but this seems like an especially awkward round of outtakes! Like the above photo… I totally look like a blurry dork!
I don't know what was going on here. Maybe because when the carrier comes out, it usually means we are going somewhere, and all my human did was take photos.
It took a little bit of tweaking for this Santa hat to look right. And yes, I wore it for the audition, and yes, it also went just a little bit askew.
I have no idea what was going on with Binga's head back there! It's kind of scary, if you ask me.
And… I think that's about it for today! I hope you enjoyed this week's outtakes!
* * *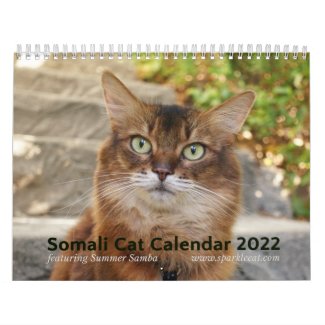 2022 Somali Cat Calendar Starring Summer Samba
See all of Summer's merch at her
her Zazzle Designercat Shop