My readers are really amazing! Lots of you came out and voted for me in the AmazeCats Next Top Cat competition, and while I did not make the cut, I did make a lot of new cat friends on Facebook, like George the Handsome Deaf and Blind Cat (who is moving on to the next bracket), Smoky, therapy cats Spaghetti-Bob and Dexter, and The Three Catketeers. These are all great kitties who are working hard to make a difference for less fortunate cats, so if you are on Facebook, I suggest you "like" their pages.
And of course, thank you for attending my amazing surprise party! We all had a great time! And I was very excited to see some of my new friends stop by my commenthon! The good news is I am just a teensy handful of comments from making my donation goal for Tabby's Place! So if you missed my party or didn't comment yet, please stop by and do so! The giveaway for the Sleeky Lounger XL will be open until Sunday night.
I have to say, you kitties are party animals! I thought I was well stocked up on treats, but you ate them all!
And some of you went a little bit crazy with my toy box!
And SOMEkitty isn't helping much with the clean up! Maybe I should just have my human do it. Once again, thank you so much for being part of my life and having fun with me!
* * *
---
---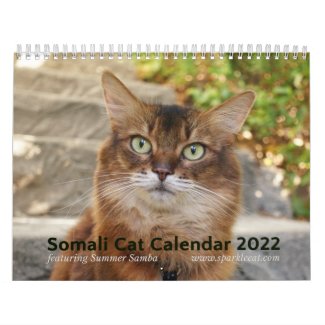 2022 Somali Cat Calendar Starring Summer Samba
See all of Summer's merch at her
her Zazzle Designercat Shop