My human finally published Binga's calendar Tuesday morning. Picking out the photos for it was difficult because Binga was not very good at posing! And my human, not realizing she would ever do a calendar of just Binga, didn't take photos of her with publishing them in mind. She collected all her favorite pictures in a folder, but it was clear that some of them just couldn't be used.
Although this photo captures an important aspect of Binga's personality, it had to be left out. Why? Because all the photos for the calendar needed to be landscape orientation, which means they have to be longer than they are high. This photo is portrait orientation, which is the opposite, and there was no way to crop it and still have the whapping paw in the picture.
This was a cute photo, and the right orientation, but it couldn't be used either. It was an iPhone photo, and the resolution wasn't enough for a printed calendar. The calendar is 11″ wide, and at the proper resolution for print, the photo is only 10″ maximum.
I bet you didn't know all the things my human has to pay attention to when picking out photos for the calendar! It's a lot more than just picking out photos that are in focus. Anyhow, here are some of the photos that did get in. The one at the top of the blog post is for February.
This is July, and it's my human's favorite out of all the calendar shots.
Maybe you remember the blog post this photo came from. It's one of my human's favorite posts, and this photo was perfect for April.
This photo is the cover, and also September. There always has to be one photo with enough space for the text, and this was it. Funny enough, the photo for my calendar's cover was also September, which was totally a coincidence.
If you want to see the rest of the photos, you will have to go to the calendar section of my Zazzle store. Also, my giveaway is still going on — if you haven't entered yet, you can do so below.
* * *
Check out my Valentine's Day Collection on Zazzle!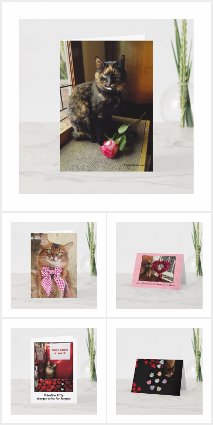 See all of Summer's merch at her
her Zazzle Designercat Shop